Ruth Lebowitz - Calicocatgirl Purrs!
Please allow me to introduce myself. I'm a woman of wealth and taste. Well, if truth be told, my state is a penurious one, although my taste is impeccable, or so I've been told. I just wanted to grab your attention with that introuductory preamble, and if you are still reading, then my ruse has had the desired effect. Are you hooked yet? Do you want to hear more? I will take that as a yes!
My name is Ruth Lebowitz, and I am publicist, stage-mother, personal amanuensis, and abject slave to four cyber-celebrity kitties, Ditzy, Milo, Alison and Otie Lebowitz. All of my kitties have their own websites, and have attracted quite a cult following on the world wide web.
I am the behind-the-scenes force responsible for the star-making machinery behind their cyber-celebrity. I edit their websites, shamelessly promote them, and cater to their every whim and desire. Besides answering their fan-mail, I am the drudge responsible for keeping their food bowls overflowing with Meow Mix, and dragging giant sacks of kitty litter up four flights of stairs to my walk-up apartment. Do I mind such thankless scut work? Not at all. Besides being their abject human slave and publicist, I am also their human mother.
All of my cats are beautiful. Well, did you expect me to say otherwise? They are after all my feline children. Milo is a handsome orange tabby cat, whose condiderable charm and charisma are exceeded only by his tawny good looks. Milo considers himself "the George Saunders of the cat world", and with good reason, since he is such a suave and debonair kitty.
Otie is a sweet and petite tuxedo kitty, with a serious penchant for furry mice. This feline charmer prides herself on maintaining her maiden modesty, despite the considerable burden of her self-acknowledged "fatal beauty"!
Alison is a sweet tiger-striped tabbie with strong maternal instincts. As surrogate mother to three homelesss kitties, she has proven herself to be a very sweet tabbie indeed!
Ditzy is a rather rotund calico kitty, whose considerable charm is exceeded only by her fondness for Meow Mix. Since she is such a substantial kitty, she is a natural for feline sumo wrestling, and has made herself quite a name on the sumo circuit. Milo is her wrestling partner of choice, and they spend many happy hours rolling around the floor at Chez Lebowitz in happy abandon.
Yes, our humble abode, Chez Lebowitz is a happy one indeed. Milo, Alison, Ditzy, and Otie get along so famously, that I have dubbed our little menage "The Peaceable Kingdom". I love all these kitties to pieces. I truly enjoy helping them shamelessly promote their websites, and doing all the things expected of me as their human slave. So I guess I am a full-fledged "catgirl". Listen - there are far worse things than being a cat-lady. Just take it from me!
Calicocatgirl's Favourite Links:
Milo Lebowitz
Ditzy Lebowitz
Ruth Lebowitz
Alison Lebowitz
Otie Lebowitz
Ruth's Guestbook!
Sign the Guestbook!
Webbie World Top 40!
Soprano Connections!
Ditzy - Calicokitty!
Ditzy - Superstar!
Vote for Ditzy!
Ditzy - Cyberstar!
Alison -Sweet Tabby!
Bachelor Tabby!
Link Mania - Pets!
Cats R Us Top 50!
Catgirl Purrs!
Catgirl's Page!
Ditzy - Cyberkitty!
Ditzy's Fan Page!
Ditzy's Links!
Catgirl's Links!
Meet the Kitties!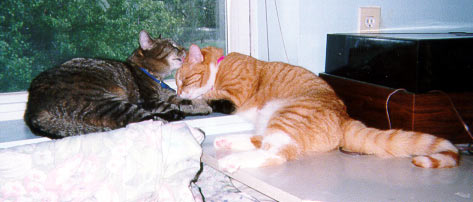 Alison sweetly grooms Milo!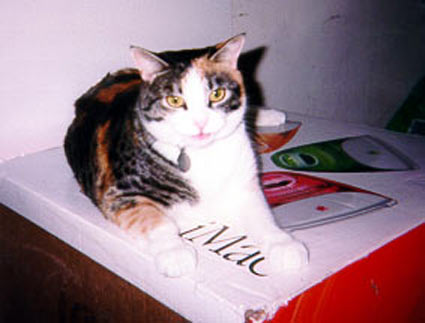 Ditzy atop her iMac box!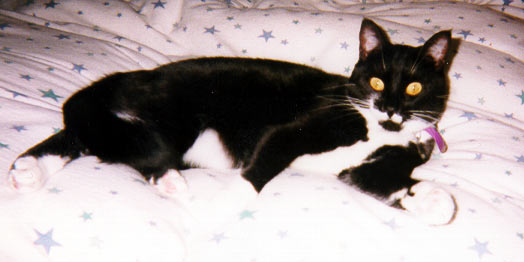 Otie in her boudoir!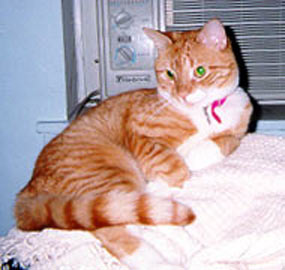 Milo is such a sweet tabby!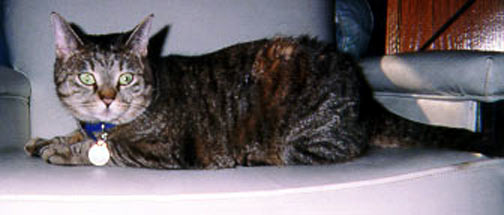 Alison is such a beauty!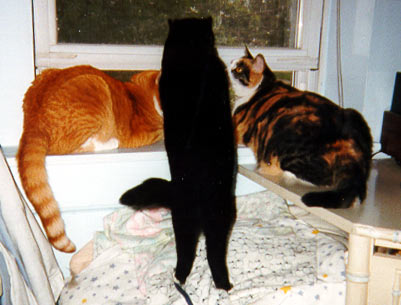 Milo, Otie and Ditzy bird-watching!
There is always something new at Chez Lebowitz! Please visit us again soon!